Custom Printed Plastic Bookmarks and Bookmark Rulers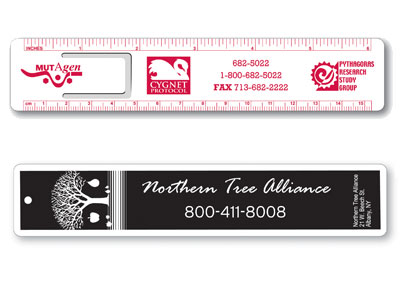 Schools, universities and colleges, libraries, and book stores have long used custom printed bookmarks and bookmark rulers to connect with students, patrons, and customers. Unlike paper bookmarks which wear quickly and are easily misplaced, a plastic bookmark is a durable, cost effective way to ensure your custom message is always top of mind when your target audience spends time enjoying a favorite book or magazine. Customers can choose from 17 colors, a wide range of sizes and shapes, and even include a hole and colorful tassel for an added personal touch. Our high volume printing operation, bulk purchasing power, and high speed printing presses allow us to pass incredible factory direct savings along to customers. We even offer complimentary design service!
Whether you have been buying printed plastic bookmarks for years, or this is a first time order, we make the process easy, guiding you every step of the way. We'll help select the proper material, recommend color schemes, and create a new design, or work with your digital art to create the perfect custom printed bookmark that fits your needs and budget. Make sure your customers don't just remember their favorite books….make sure they remember your organization too! Interested in learning more about custom printed plastic bookmarks? To discuss your project, request samples, or place an order, contact Rainbow Printing for more information.