Custom Printed Plastic Key Tags, Luggage Tags, & Golf Tags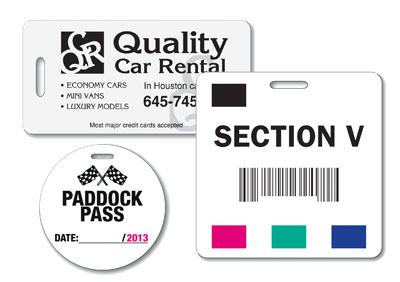 Whether you are a realtor managing keys for a large number of vacation properties, a travel agent, or the director of a golf outing, custom printed plastic tags are the perfect way to create and maintain a professional image. From keeping keys organized to adding a personal touch, Rainbow Printing can create the perfect key tag, luggage tag, or golf bag tag for any budget. Choose our large selection of sizes, shapes, and colors, including designs with space to handwrite important information in defined fields of your choosing. Our in-house design service and state-of-the-art, high speed printing equipment can create the perfect custom printed key, luggage, or golf bag tag for any purpose or occasion. Available options and value added services include:
Surface or Laminated Printing for Custom Messages
17 Card Color Options
Holes & Slots With a Wide Assortment of Attachment Options Available
Design Assistance
Rainbow Printing's factory direct pricing, award-winning design staff, state-of-the-art presses and optical inspection equipment can create the perfect custom printed plastic luggage or key tag to meet your specific needs and budget. Interested in learning more about customized plastic tags for identification or promotional purposes? To discuss your project, request samples, or place an order, contact Rainbow Printing for more information.