Custom Printed Plastic Table Tents and L Cards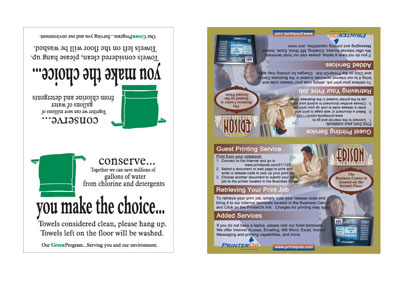 Rainbow Printing has years of experience supplying custom printed plastic table tents and L cards to the hotel and hospitality industry. Available in a wide range of sizes and colors, our custom printed table tents and L cards are an ideal way to leave personalized guest messages. As a manufacturer, our customers take advantage of in-house design service, bulk buying power, and state-of-the-art high speed printing equipment which results in attractive, long lasting printed plastic table tents and L cards to meet every need and budget. Buying factory direct means significant cost savings and a high degree of customization is available for special projects. Rainbow Printing offers a wide range of custom options and value added services, including:
Surface or Laminated Printing
Custom Die Cutting
Two-Sided Printing
One, Two, and Four Color Printing
Our bulk buying power, factory direct savings, award-winning design staff, state-of-the-art presses, and optical inspection equipment combine to produce visually attractive, cost-effective table tents and L cards that are sure to delight your guests. Interested in learning more about customized plastic table tent and L card printing? To discuss your project, request samples, or place an order, contact Rainbow Printing for more information.