Custom Printed Plastic Door Hangers and Lock Markers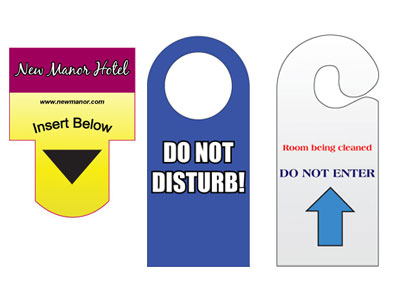 Rainbow Printing offers custom printed plastic door hangers and lock markers for the hotel and motel industry. Available in a wide range of shapes, sizes and styles, our door hangers and lock markers are a perfect way to make your guests feel at home. As a manufacturer, we combine in-house design capabilities combined with high volume and bulk buying power to create attractive, long lasting printed plastic door hangers and lock markers to fit every need and budget. Although buying factory direct means significant cost savings, it also creates customer choices. Rainbow Printing offers a wide range of custom options and value added services, including:
Surface or Laminated Printing
Custom Die Cutting
Two-Sided Printing
One, Two, and Four Color Printing
Our bulk buying power, factory direct savings, award-winning design staff, state-of-the-art presses, and optical inspection equipment are a winning combination that can produce visually attractive, cost-effective door hangers and lock markers that will delight your staff and guests alike. Interested in learning more about customized plastic door hanger printing? To discuss your project, request samples, or place an order, contact Rainbow Printing for more information.