Custom Printed Plastic Pocket, Wallet and Wall Sized Promotional Calendars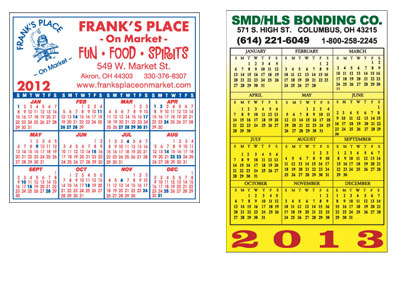 Custom printed plastic calendars are an excellent way to help customers stay organized while keeping your advertising message and contact information top of mind. Rainbow Printing offers custom plastic promotional calendars in both wall and pocket sizes. Available in a wide range of colors and styles, our custom printed promotional calendars make great gifts for loyal customers and they are cost-effective advertising tools too. By buying factory direct, customers take advantage of in-house design service, bulk buying power, and state-of-the-art high speed printing equipment. With factory direct savings and custom printing capabilities, Rainbow Printing can create the perfect plastic promotional calendar to meet every need and budget. Available options and value added services include:
Surface or Laminated Printing
Two-Sided Printing
One, Two, and Four Color Printing
Our bulk buying power, factory direct savings, award-winning design staff, state-of-the-art presses and optical inspection equipment combine to produce visually attractive, cost-effective promotional calendars that keep your company name and contact information in front of customers 365 days a year. Interested in learning more about customized plastic wallet and wall sized calendar printing? To discuss your project, request samples, or place an order, contact Rainbow Printing for more information.